Search Knowledge Base by Keyword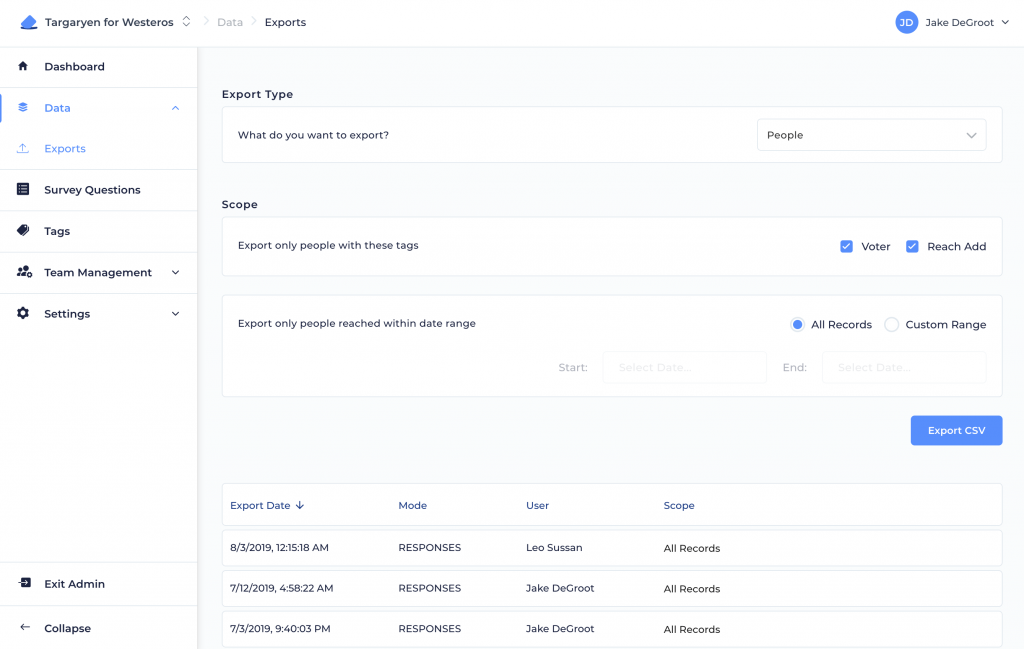 Your Reach data is only as good as your ability to put it to good use in your broader field plan, GOTV strategy, and election-day operation. That is why Reach provides you with a number of export options that will allow you to get your data where you need it to go. You can export the following report types from Reach:
Responses
The "Responses" Export type is designed for uploading responses into a VoteBuilder, EveryAction, NationBuilder, or any other third-party CRM and merging them with existing people records by a unique ID. The CSV file will contain one row per response gathered in Reach. The first column will be a unique ID of the person in Reach (based on whichever you have selected on the Campaign Details screen). Then you will always have columns for Person Reach ID, Canvass Date, Canvass Timestamp, User ID, User Name, and Response ID. Then, you'll have an additional column for every survey question in your campaign.
It is important to remember that in this type, if a Reach user gathers responses to four questions from the same voter and taps save, that will appear as four rows in this file.

People
The "People" export is designed to help you get a big-picture view of all the people your campaign has reached and added. It includes one row per person you have reached. It will tell you all the basic info about the person (their name, address, Reach ID, external IDs), who was the last user to reach them, when they were added, when they were last reached, which auto-applied tag they have, which campaign tags they have, their contact info if you have it, and all their survey question responses.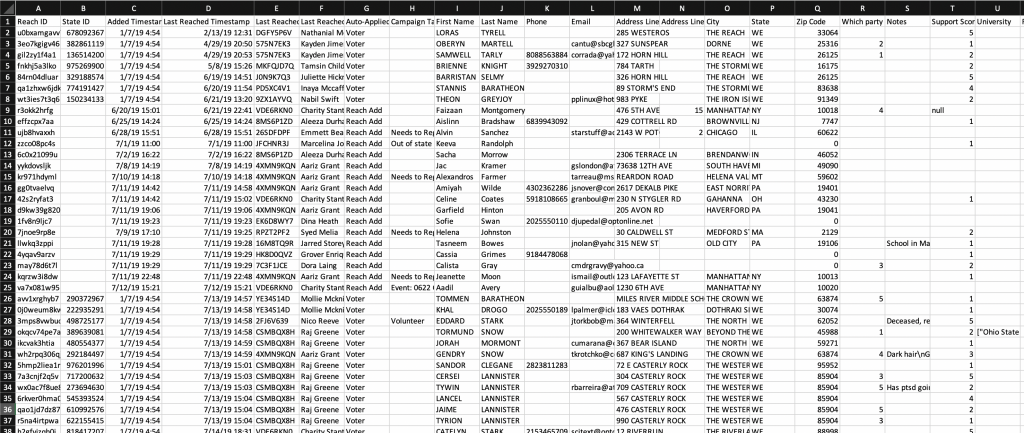 Users
The users export is your route to understanding your Reach users. It includes everything from the Users admin table: our unique User ID, the user's name, the date they were added to your campaign, their email address, their phone country code, their phone number, the number of people they have reached, and their permissions on the campaign.
The fist column of the user export is the unique User ID in Reach which will let you match users to their rows in the other export types. User IDs are consistent across campaigns.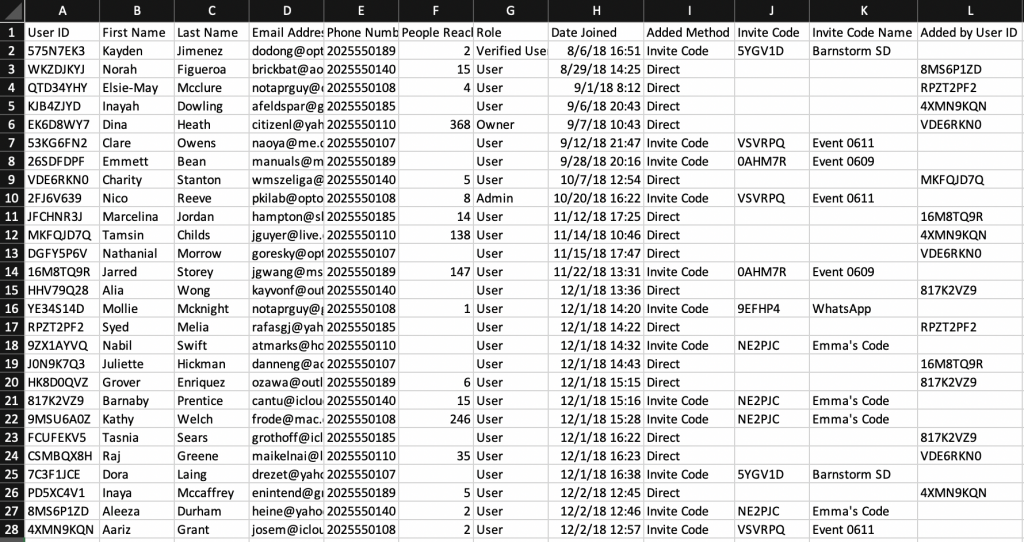 Tags History
This export will give you one row per tag-to-person pair. So, if your users have assigned five tags to the same person, that will be represented as five different rows. This allows us to show you what date and time each tag was applied, and by which user. We also include the persons' name and most recent contact info for good measure. If you need street addresses, we suggest the "People" export type.
Note: We only began tracking timestamps and users who applied tags on August 7 2019, so any tags applied before then will not include those data points, but will still appear in your export.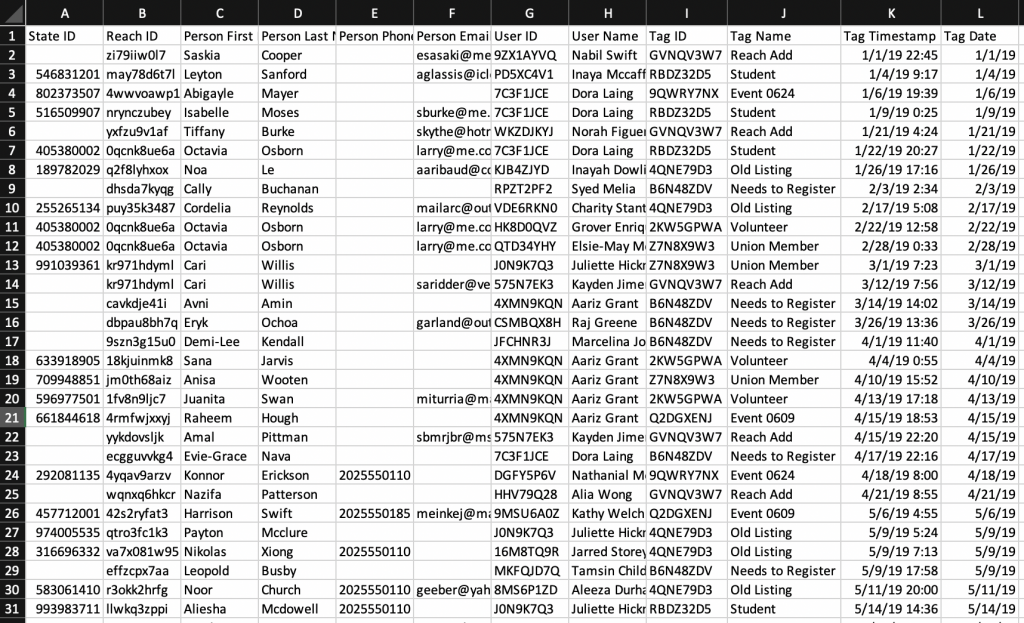 Contact Actions
Every time your users tap the SMS or Email button next to a persons's contact information, we are keeping track of those button taps. This does not mean that the user necessarily sent the text or email (that happens outside of Reach so we are not able to know that for sure) but it does mean that they at least intended to send a text or an email to that person. This export details all those button tap events triggering contact actions. We give you informations about the person, the user, and the action.
Note: We only began recording this data on July 18, 2019, so any contact actions initiated before that date will not appear in these exports.

Email Addresses
This is a very simple export designed to show the history of all email addresses you have collected. The first column is the external ID you have specified on the Campaign Details Screen, then you have the email address of that person, the date it was collected, the user it was collected by, and the Reach ID of the person.
Note that because this export is designed to give you a full history of collected addresses, it may include information entered by one user which has since been over-written by another user. Do not assume that all email addresses are the most recent ones. If you'd like to see the most recent information for each person, use the "People" export type.

Phone Numbers
The Phone Numbers export is just like the Email Addresses export, but for phone numbers!

Generating a New Export
From the export screen, select an export type, then pick your scope. Your options for scope are:
Date Range
All Records: As the name suggests, this scope allows you to get all the data Reach has of a certain type.
Custom Range: Use the date-pickers to choose a start and end date for your export.
Tags
For the "People" export only, you must also select which people you want to include. Your options here are your two auto-applied tags. This allows you to pull an export of only people included in your bulk uploads, only your users have added from the Reach app, or both at the same time.
Once you have selected a data type and a scope, click Export to download a CSV. In that CSV, you will find all the columns you need to Bulk Upload this data to another tool of your choosing such as VoteBuilder. You can map the various columns as you see fit. The last column will be a "Reach UID" column which is a unique value for every response in Reach. This is a good way to track unique responses in your own database, if needed.
Export Unique ID Column
A critical part of uploading to most CRMs (Like VoteBuilder) will be making sure your Reach exports include the necessary unique ID for each voter or respondent. If your data set includes more than one unique ID column, Reach allows you to specify which one should be used for your exports. This choice is made not on the export screen, but on the Campaign Details screen. There, you'll see a drop-down selector with all the available unique IDs so you can pick the one that will be most useful to you when you're uploading these responses to an external CRM.
Was this article helpful?
Last Updated On August 07, 2019