Search Knowledge Base by Keyword
The Network Admin Screen is where you can configure how your campaign uses the My Network relational organizing features of Reach. Learn about My Network here and more about how to think about using Reach for Relational Organizing here.
Tutorial Video
Admin Screen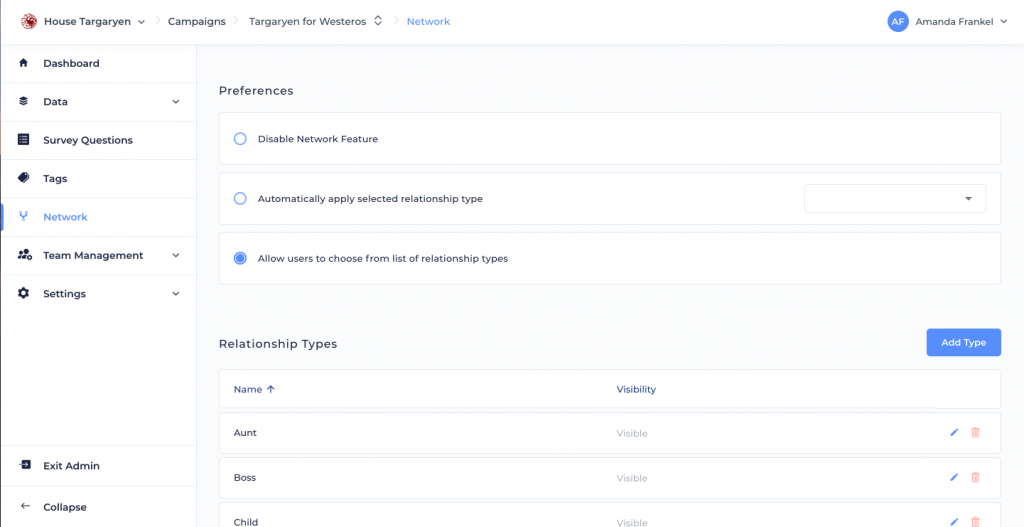 Preferences
This section at the top of the screen determines how the Network feature will function for your campaign. You have three choices:
Disable Network Feature: This turns off the Network feature for all of the users of your app. The "Add to My Network" option will be removed from the Action Menu, the Network tab will be removed from the My Reach screen, and any existing relationships will be invisible to your users.
Automatically apply selected relationship type: This will allow users to add people to their Network using a fixed relationship type (users will not be allowed to choose between multiple relationship types). You can choose the Relationship type for this option by selecting it from the dropdown in this row.
Allow users to choose from a list of relationship types: Users will be able to add people to their Network, and will be able to choose from your list of relationship types.
---
Relationship Types
Adding a new type
You can add new relationship types by tapping "Add Type" at the top of the Relationship Types section.
You can write a label, add a description, and choose whether or not to display your new relationship type in the list visible to your users.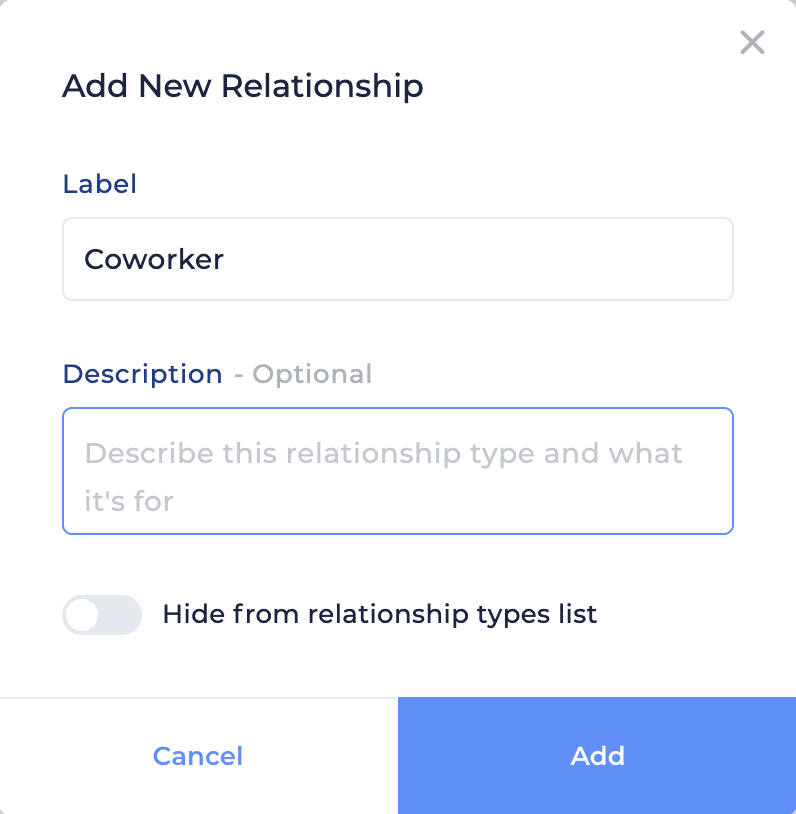 ---
Editing Relationship Types
You can edit existing relationship types by clicking the

icon to the right of a relationship type. Here you can update the label or description for that relationship type, as well as choose whether to hide that relationship type from the visible list.
This also displays useful information like the creation date, who created the relationship type, as well as the API ID for that specific relationship (this is displayed in your Relationships export as "Relationship Type ID").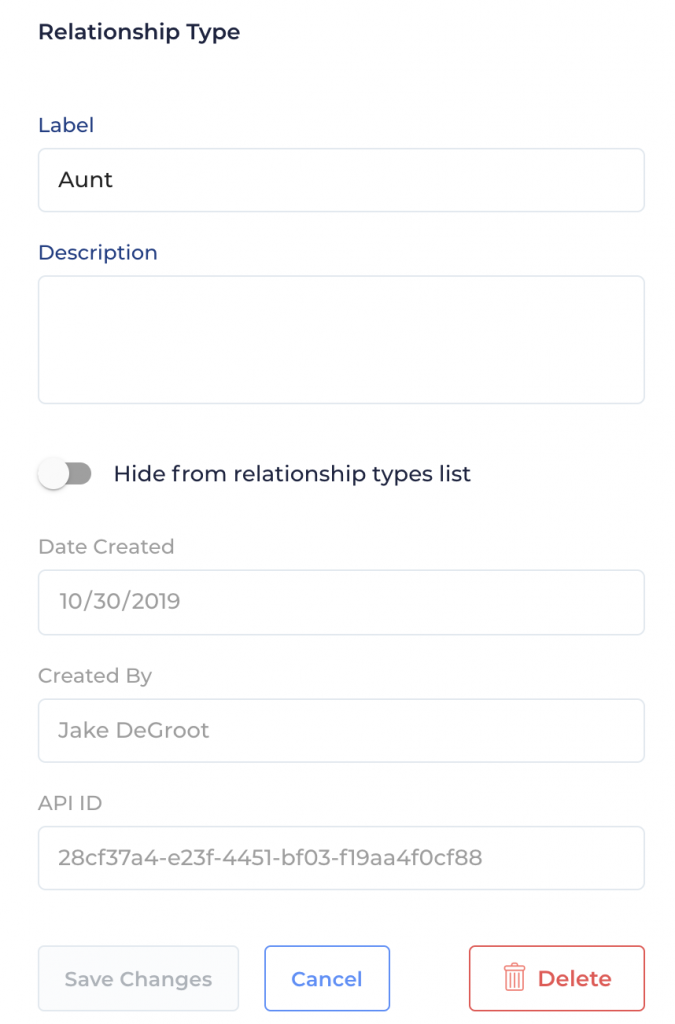 ---
Deleting Relationship Types
You can also delete a relationship type from your list. A warning pop up will appear to confirm that you really want to delete it. Once you delete a relationship, it will be removed from the app, as well as from your exports.
---
Relationship Type Visibility
You have the ability to control whether a relationship type appears in the list of types that your users pick from. When you hide an existing relationship that users have already utilized, their relationships will still be visible in the Reach app and exports, but no other users will be able to select that relationship type. This is especially useful if you want to remove the relationship from your users' choices without permanently deleting it from your campaign. You can set the visibility of a relationship type when you first create it or update it later in the same "Edit" panel where you edit the type.
If you want to view all of the relationships added by users in your campaign, you can export a list using the Relationships export type. Check out "About the Export Screen" for more info.
Was this article helpful?