RVT Overview
Relational organizing, or specifically Relational Voter Turnout (or "RVT") is not new. Rather, it has been a tried-and-true technique for as long as people have been organizing in communities. Some would even go so far as to say that the phrase itself is redundant. After all, all organizing is, at its core, based on relationships, right?
Existing RVT Tools
Over the past few years, the progressive movement has seen a bunch of new tech tools burst onto the scene offering new workflows to facilitate relational organizing. Generally, these tools work as follows:
Instead of (or in addition to) canvassing out in the world on doors or phones, a campaign asks a volunteer to spend time using a new RVT app.
The app requests permission to access the volunteer's phone contacts, Facebook friends, or other source of preexisting relationship data.
If access is granted, the app ingests that relationship data and tries to use an algorithm to match the volunteer's friends to the voter file.
The app then prompts the volunteer to message their contacts to ID them and ask them to vote.
The app often provides a built-in messaging interface that the volunteer must use in order for the data from the conversation to be properly captured.
When implemented fully in a campaign, these tools can have a major impact and studies have shown great benefits from strong relational organizing programs. That said, full implementation and integrations of these tools and techniques can be a major challenge. Don't take our word for it – check out this 2019 report from DigiDems about the challenges they encountered when their 80 technologists were embedded on campaigns all around the country in the 2018 midterms trying to implement RVT tools.
Reach takes on RVT's challenges
Reach, while originally conceived and designed as a canvassing app, has also become a go-to RVT solution for many campaigns and we think about Relational Organizing a bit differently than the flow described above. To go point by point:
We want to let campaign volunteers keep doing what they're already doing and what they want to be doing. Canvassing and relational organizing should not be mutually-exclusive activities that compete for volunteers' time.
Reach works without ever asking volunteers to give us access to their contacts or social media accounts. Volunteers simply use Reach's search to decide themselves who they want to canvass. This can be people they've known their whole lives, or people they've just met at the farmer's market while tabling for the campaign.
Voter file matching algorithms are very difficult to master. The data in a voter file is often incomplete or messy and the data in a volunteer's phone is generally even worse. Trying to automatically match data from these two sources is often spotty and can result in both false positives and false negatives, shaking the volunteer's trust in the tool. When a RVT tool is asking me to contact my friend who lives in California about a congressional primary in New York, I start to question the process. In Reach, since I am directly searching the voter file in the first place, using smart nickname-aware search, my results are inherently tied to the voter file, with no matching algorithm needed.
There is a massive social discomfort factor inherent in asking a volunteer to talk to people in their life about politics. Whether the tool is prompting them to talk to their uncle they see every weekend, or a high school friend they haven't talked to in 15 years, volunteers will, in many cases, be extremely hesitant to launch into a canvassing interaction with these people in their lives. As politics has become increasingly tribal and divisive over the last few years, this is more true now than ever. On the contrary, many volunteers are much more comfortable talking to strangers about a campaign. So, with Reach, we give volunteers the tools to turn these strangers into new campaign-based relationships. With persistent browsable canvass history and the Network feature, we can build relationships between volunteers and voters to leverage relational benefits without needing to depend on divisive minefield conversations with loved ones that volunteers won't want to have.
Canvassing interactions happen in every context, via every communication method imaginable. This is especially true when we're talking about conversations between people with a preexisting relationship. Maybe I talk to my mom on the phone every night, and I have a WhatsApp thread with my college friends, and I talk to my co-workers at the water cooler, and I chat with my brother on Facebook Messenger, and I chat with my activist friends on Signal, and I talk with my roommate over the dinner table. In none of these cases will I be willing to force an unnatural conversation with these folks via new app that is trying to act as the intermediary. With Reach, we know that trying to be the place where all these relational conversations live is impossible. Instead, we just try to give volunteers a way to log the results of the canvassing conversation as quickly and easily as possible to get the crucial data to the campaign no matter how they gathered it.
The core elements of RVT in Reach
Search
The RVT process, like everything else in Reach, starts with search. Our search is fast and effective at finding the person you're looking for in the voter file. It even handles common nicknames and name variations so if you search for your friend Jake, you'll find him even if he registered to voter as "Jacob". Some folks sit on their couch and lookup all their friends in Reach while they watch Netflix. Some campaigns even throw "Reach and Rosé" parties where they all get together and drink wine and look up their friends in the voter file.
History
Reach doesn't just depend on pre-existing relationships, but it helps a folks build new relationships between volunteers and voters who may have just met in the context of the campaign. The relationship should not end when the first canvassing interaction is over – it should just be beginning. The History tab on the My Reach screen lets each user see a running list of everyone they have previously Reached. They can then go back through the folks they've met and send follow-ups to keep the conversation alive. Some campaigns will prompt their Reach users to send specific follow-ups throughout the cycle or add new survey questions at various milestones and ask their users to gather new responses from people they have previously Reached.
Network
When a campaign ready to go deeper and get more specific than the full history view, they turn to the Network tab on the My Reach screen. Here, each user can curate a list of everyone in their own Network. When I've added someone to my Network, I am taking ownership of that relationship and it's my job to get everyone on that list to show up and vote. Organizers have been doing this with clipboards for generations, but Reach enables that same sort of classic distributed organizing and delegation of responsibility, but tied to the voter file and with lots of yummy data for the campaign!
Relationships Types are customizable by the organization using the Network admin screen so you can let user be as specific as you want as they map their relationships. Sometimes, even if the type of relationship isn't critical to your program, having a list of types that users can choose from can help make them think with an open mind about all the different types of people in their life that they could add to Reach. All relationship data is available export as well, if a campaign wants to make their own dashboard or schedule follow-up reminders with users to contact the folks in their network.
Making Contact
While Reach doesn't attempt to own the conversations that volunteers are having with their friends and family via all sorts of communication channels, it does give volunteers a simple way to initiate a conversation over the most common channels, use a script written by the campaign, and even let the organization know when conversations are happening via other methods. In Reach, we call this "contact actions".
There are currently four available contact actions that a user can take in Reach: SMS, Email, Phone Call, and External Contact. Any time a user executes a contact action, Reach stores that information and makes it available to the campaign via the Contact Actions export type. Contact Actions (along with saving new survey question responses) also resets the clock on when a user last Reached a person, which is then made visible to that user on the person's profile.
SMS, Phone Call, and Email Contact Actions can be triggered by any user who can see a person's phone number or email address. This means either the user has added that contact information themselves, their permissions are "Verified User" or higher, or contact info privacy masking is disabled on a campaign. In this case, the user can simply tap the Message, Call, or Email button at the top of the person's profile screen under their name. Reach will redirect that user to their own Texting, Calling, or Emailing app on their phone with the person's contact info pre-filled.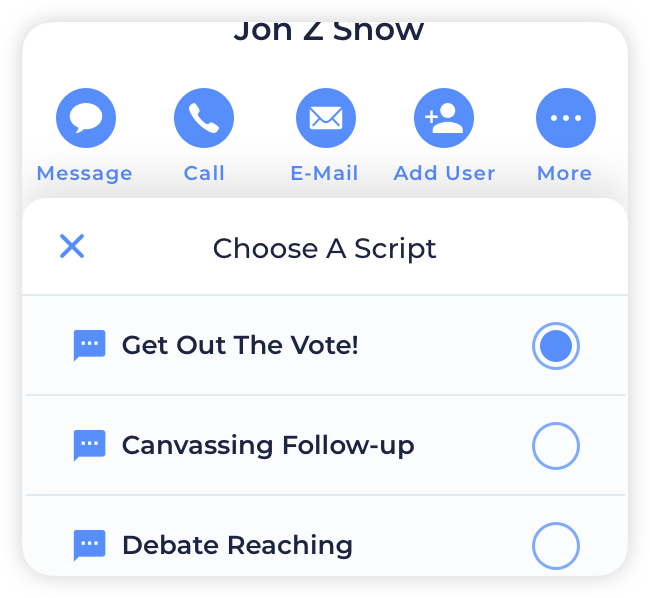 For text-based contact actions like Email and Message, you can even set up Contact Scripts which let your users pick from a list of prewritten scripts so there's always something to say that aligned with the organization's messaging and goals. These scripts will also be pre-filled in the user's own app when they choose one.
The contact attempt will come directly from the user's own phone number or email address, just as they'd communicate with their contacts in every other non-canvassing conversation. The contact will have no indication that this conversation originated in Reach.
For conversations that happen in any other channels besides SMS, Phone, or Email, a user can tap the menu button at the top of a person's profile and select "Mark as Contacted".