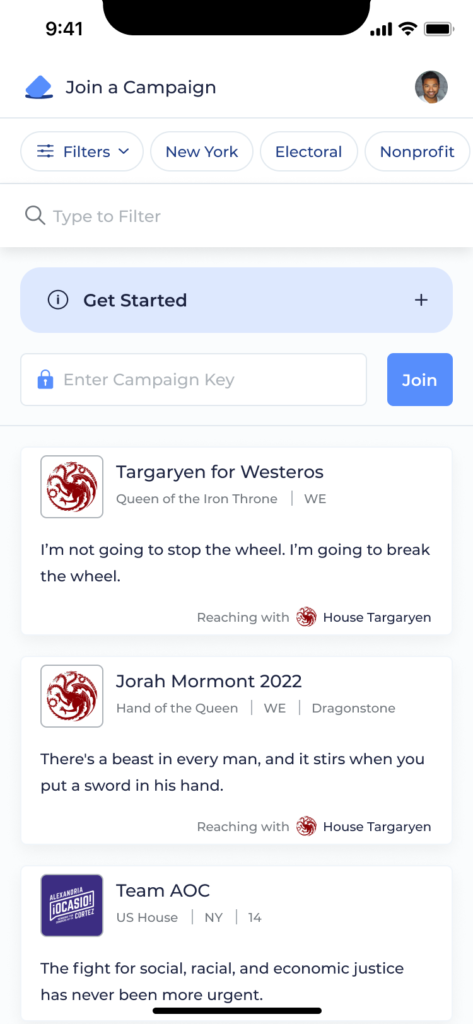 The Reach Campaign Directory is your place to browse, discover, and join all the campaigns using Reach for righteous work across the country,
Accessing the Directory
The campaign directory will be the first screen you land on when you log into Reach if you're not yet a member of any campaigns. Once you are a member of a campaign, you can always get back to the directory by tapping the campaign name in the top left to open the Campaign Drawer, then tapping the big "Browse More Campaigns" button at the bottom.
Searching and Filtering the Directory
Use the Quick Filter bar to limit the campaigns you'll see. You can filter by a wide variety of criteria including campaigns in your state, the type of campaign, and whether it is partisan or non-partisan.
The Campaign Landing Screen
Tap on any campaign in the directory to arrive at that campaign's Landing Screen. From here, you can learn lots more about the campaign, get quick links to their social media, donation page, website, and help desk email, and join the campaign. You may even get to check out a video from the campaign.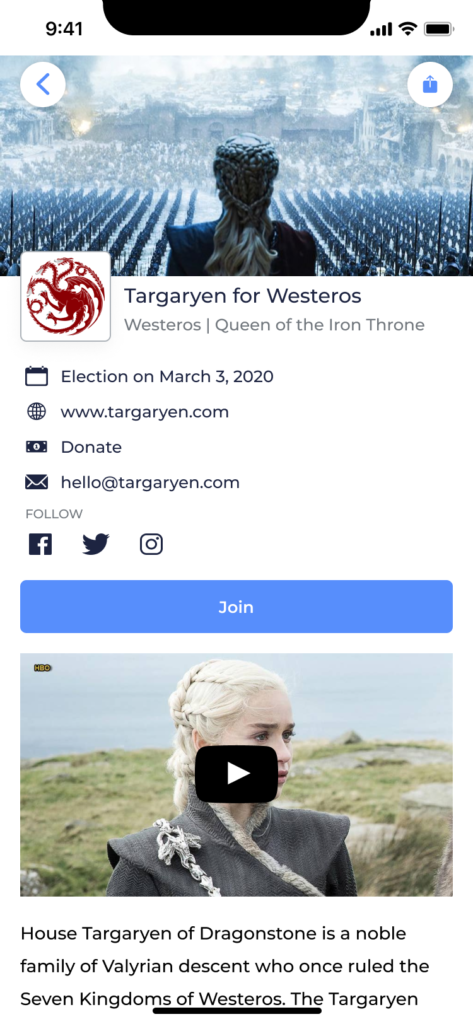 Joining a Campaign
The directory is great for finding and joining new campaigns. If you already have a Campaign Key for the campaign you're trying to join, you can enter it directly on the main directory screen or on the campaign's landing page.
Campaigns can be set to any of the following Join Modes:
"Open" campaigns are open for any Reach user to join, even without a key. When you tap into the landing page for one of those campaigns, you'll simply see a big Join button.
"Locked" campaigns can only be join by entering a Campaign Key
"Closed" campaigns are not accepting new Reachers at this time. The only way to get into a closed campaign is to be invited by an existing user via your phone number.
If you tap into a campaign you are already a member of, Reach will show you when you joined that campaign and give you a shortcut to jump right to the Campaign's Reach.
At any time, you can tap the title in the top left of the directory screen to open your Campaign Drawer and switch back to working in a campaign you are already a member of.