The Pending Invites Admin Screen shows you everyone you have invited to join Reach, who has not yet downloaded the app and created an account. If you're trying to see the existing users on your campaign, check out the Users screen.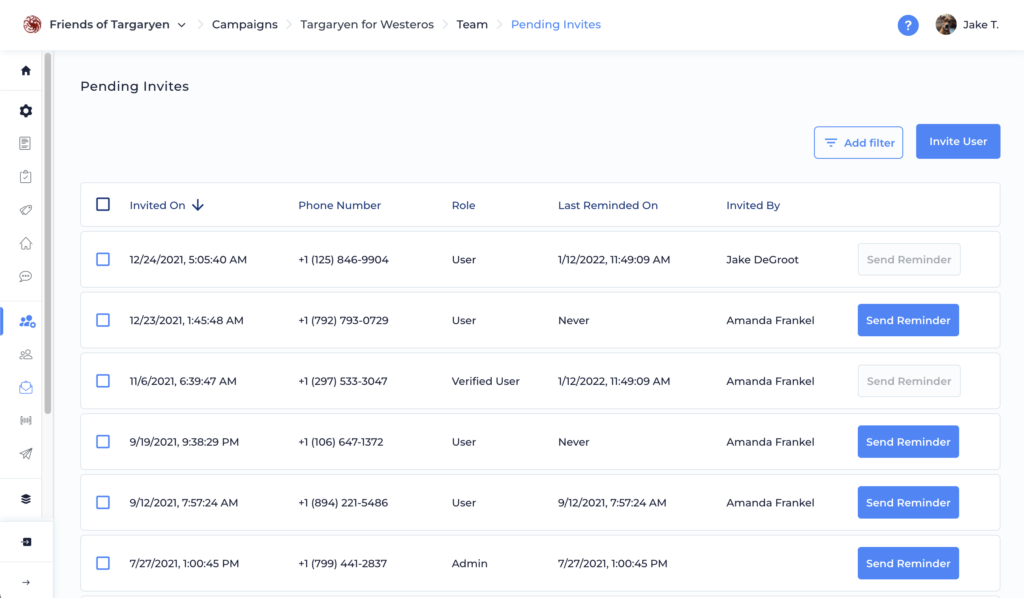 On this screen, you'll see the following for each pending invite:
Invited On – Date and time that potential user was invited.
Phone Number – The phone number used to invite that potential user. Please note, as this screen displays pending invites for people without Reach accounts, it's not possible to display a name.
Role – The role that potential user would have on your Reach campaign once they accept their invitation.
Last Reminded On – This shows the last date that potential user was sent a pre-filled text message with a link to download the Reach app.
Invited By – The Reach user on the campaign that invited the potential user.
Send Reminder Button – This allows you to resend a pre-filled text message with a reminder to download Reach and join the campaign. Keep in mind that you can old send a reminder to a given phone number once every 24 hours.
If your list of pending invites is long, you can use the Filter option to narrow down your list by Role, Phone, Invited By, when they were last reminded, or when they were invited to join the campaign. You can also use the Invite User button to invite more users to join your campaign.