Reach is expanding the way and places that progressive canvassers talk with voters. Vote tripling multiplies the impact of those conversations.
Now, wherever you meet voters, you can ask them not only to vote for you, but to get three of their friends to vote. This is called "vote tripling." Vote tripling campaigns employ this easy, two-step process:
Ask supporters to name 3 specific friends they'll mobilize to vote.
Send those supporters reminders SMSs with the names of those 3 friends before Election Day
Setup is easy
Add a multiple choice Survey Question (Yes or No answer) like this:
Add a free-text Survey Question called "Vote Tripler Names" or "3 Friends' Names".
Add both Survey Questions to your Question Set, and fold it right into your canvassing script! Note: Activating a question set will require a Reach Basics subscription or higher.
Later, send reminder texts like these to nudge your vote triplers: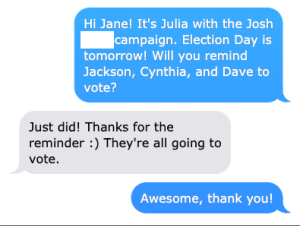 On average, around 20% of supporters say yes. So, if your campaign asks 10,000 supporters, you could see 2,000 vote triplers mobilizing up to 6,000 additional voters. In a close race, that turnout could tip the scale.
More info
This tactic was designed by VoteTripling.org, a non-profit that designs and implements free relational voter turnout programs for progressive campaigns. For more information, visit votetripling.org or email Robert at [email protected].