With election day fast approaching, ensuring that voters turn out is key. In this election in particular, GOTV looks different – it's not just ensuring voters know their polling location for early voting or election day voting, but chasing absentee and vote-by-mail ballots, as well as helping ensure voters know how to properly navigate their options. You have a lot to do, so here are some tips and tricks to maximizing your GOTV efforts with Reach.
Host Friendbanks
Every single task on this list, from importing contacts to contests on the Rankings screen, can happen within a Reach Friendbank. Get all of your volunteers together to answer any questions, get them set up, and get them Reaching. You can even hold contests to see who has added the most relationships to their Network using the Relationships leaderboard on the Rankings screen. Check out our volunteer training guide for more tips.
Enable your users to rapidly message their Networks
The fastest way to get your GOTV message out to all of your users' Networks is to create an action card with a Reach Network Share call-to-action. Your volunteers can pull up everyone in their Network to message everyone with the same pre-filled Contact Script to quickly get in touch with everyone. You can also create custom Survey Questions to ensure you're capturing all of your GOTV responses – some examples are survey questions for that voter's Voting Plan, Voted Status, or Pledge to Vote.
Use Social Share Action Cards to spread the word far and wide
After your users have contacted their Networks for GOTV, get them to tap into their social media contacts too with a Share with Social Media call-to-action. Pre-fill your card with an important link, like a petition, polling site lookup or a ballot request form, and get your volunteers to share it across all of their social platforms.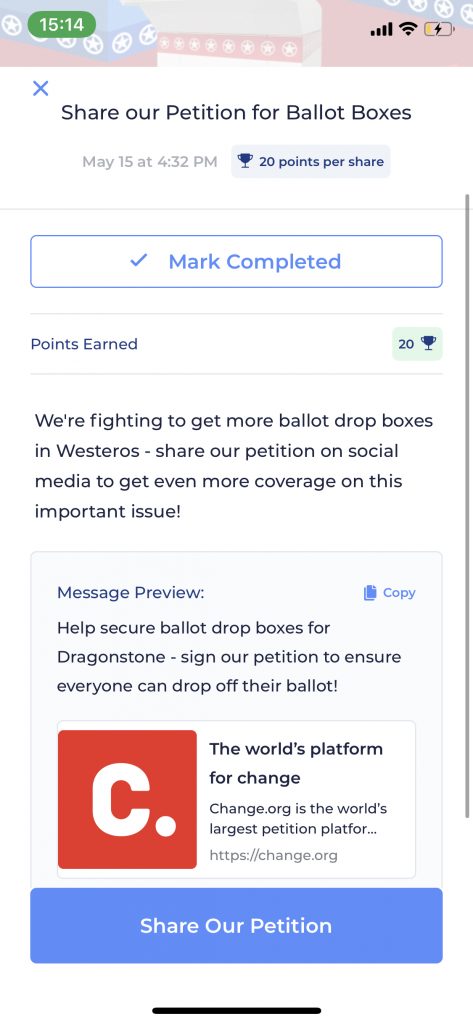 Encourage Follow-up Contact using individual Contact Scripts
Be sure to create Contact Scripts that provide answers to common voting questions, like how to request a ballot, when it's due, or how to vote early or on election day. This way, when a user inevitably gets questions while contacting voters, they can still use the Contact Actions on a voter's profile page to continue the conversation.
Cover the basics: provide helpful voting information on the Home Screen
You can use External Link Action Cards to ensure your volunteers can look up helpful voting information. You could create a "Find Your Polling Location" card that takes them to a polling location lookup tool, or a "Request Your Absentee Ballot" card to direct your users to your state BOE website to get their own ballot ready to go.
Quick Tip: Pin cards in a specific order
If your GOTV tasks have a specific flow to them, be sure to Pin your cards when you're creating them, and set a Priority order so they appear in the exact order you'd want your users to tackle them!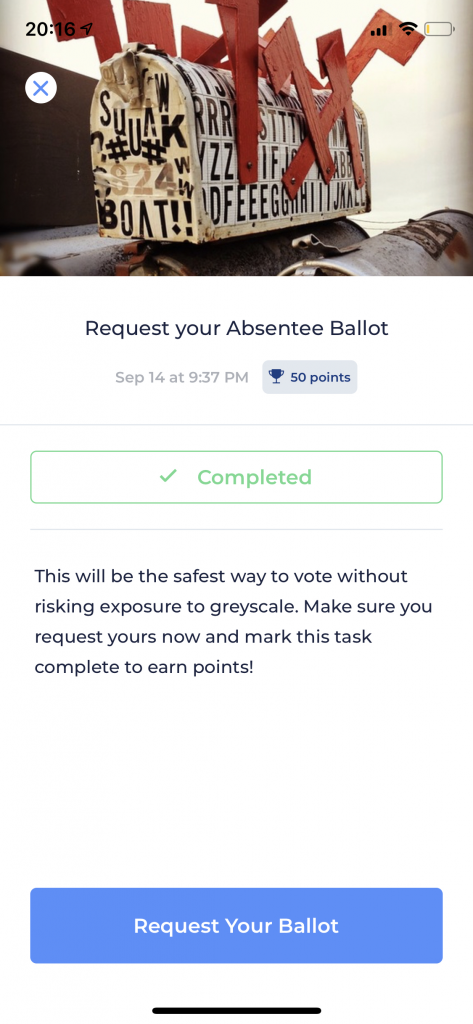 Send your volunteers to GOTV events and tasks on the Home Screen
Have your volunteers get Reaching with tasks like asking your users to import their contacts, message their Network with your GOTV messaging, or head to the Search screen to look up their neighbors and other last-minute contacts. Each of these can be their own Task card so your volunteers can earn points for all their hard work. You could also send your volunteers to sign up for specific events, like GOTV phone banks and text banks, by using the External Link call-to-action to send your volunteers to your events page.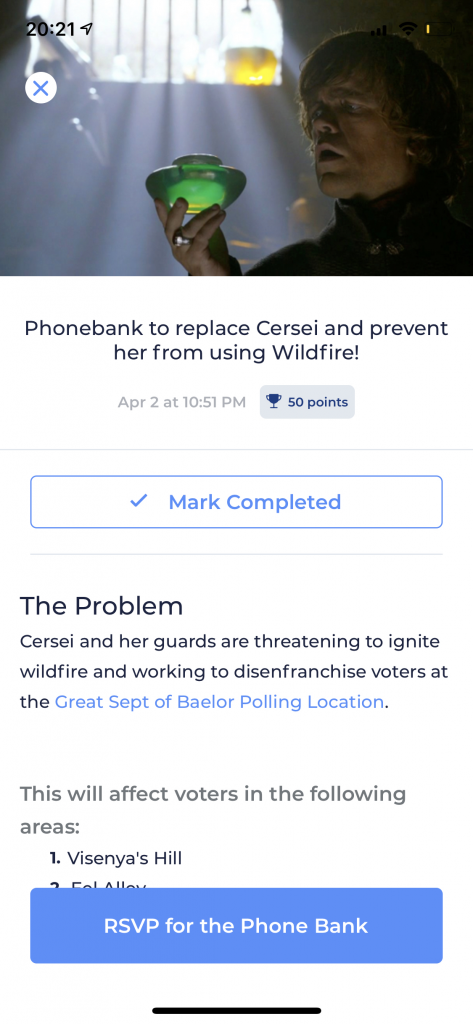 Quick Tip: Link an Action Card to a Zoom call
The External Link call-to-action type works with any valid web link, including a link to a Zoom call. If you're hosting a Friendbank, make sure the call-to-action takes your volunteers straight there. You can even send a Push Notification to remind them when it's time to join!
After your volunteers rack up the points on their Home Screen, have them check out how they stack up in the Action Points Rankings Host daily or weekly contests where the volunteer with the most points gets a campaign t shirt, or do a Twitter shoutout for every volunteer that breaks 100 points – the possibilities are endless!
Use the Reach API to track early voting and absentee voting data
If your campaign is on Reach Movement and you have an engineer or skilled coder at the ready, you can utilize the Reach API to bulk load Tags into Reach. Since users can filter their Network by a specific Tag, you can use the Tags API to mark voters based on your turnout universe, or even based on their ballot status. In a state that has vote-by-mail or prominent absentee voting, you can tag voters as "Ballot Requested", "Ballot Returned", "Not Yet Voted", or anything else you'd like. This way, when a user is messaging their Network, either through a Network Share action card or through 1-on-1 outreach, they can filter their Network just for a specific tag you've created so they're targeting your ideal audience. If you want to upgrade to Movement to use the API, or already have Movement and need an API key, contact Reach support and we'll get you set up.