The Offline Data Admin screen lets you generate your own Offline Data Sets which will be available for your users to download and use when canvassing offline. You can learn more about Offline Mode in Reach here. Offline Mode and the Offline Data admin screen are available for Reach Complete and Reach Movement plans only. Reach Complete is restricted to three offline data sets, while Movement has unlimited. If you're on Reach Basics and you want to access this feature, contact us to upgrade.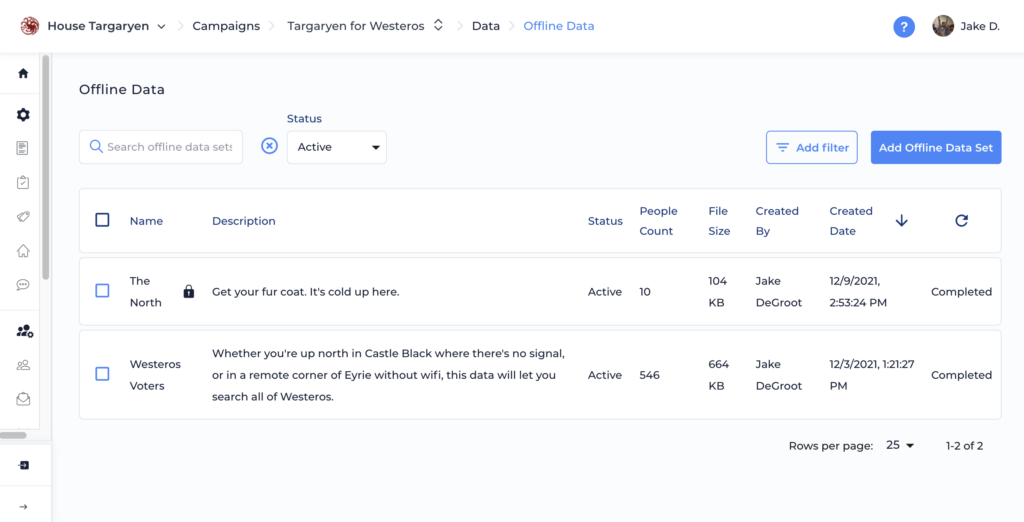 On your Offline Data admin screen, you'll see the name and description of each dataset and whether it's Active or Inactive. You'll also see the total number of people in your dataset (the "People Count"), the size of the download file, as well as who created the dataset, when it was created, and the download status (this will show a % completion, or "Completed" when it's ready).
Building an Offline Data Set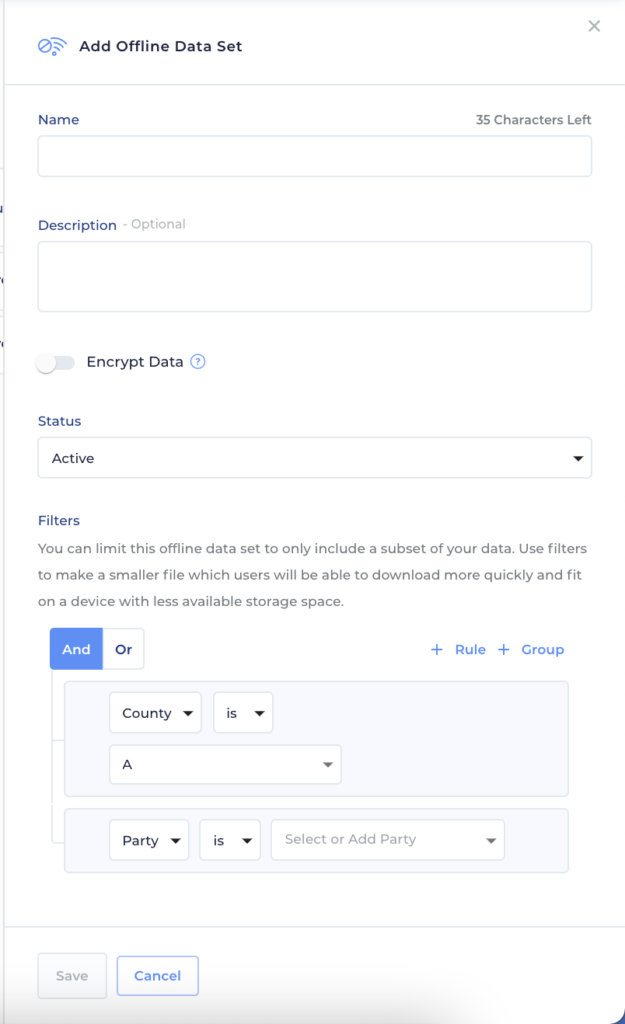 Click the "Add offline data set" button in the top right to build a dataset. To build your data set, you'll select the following:
Name – This name will be displayed to your end users.
Description – This optional field gives more context to your dataset. If you have a very specific dataset, like everyone in one zip code who is younger than 25, be sure to add a description to help your users pick the right data to download.
Encrypt Data – This toggle allows you to select whether users have verify their identity on their device before being able to access this offline data set. Encryption is required for certain data sources.
Status – "Active" datasets are visible to users for download, while "Inactive" are not.
Filters – You can limit your offline data set to only include a specific subset of your data. You are able to filter your data by any fields in your underlying dataset. Using filters to make a smaller file means that users will be able to download it more quickly, and use it on a device with less available storage space.
After you save a data set, as it builds, you'll see a progress tracker on the right hand side showing you the % complete for that data set. Once a data set is available to your users, this will switch to "Completed".
Plan ahead for large data sets
If you are planning to create a large offline data set with over 100k people, it will take a while to generate. We recommend building large data sets in advance so your users can download them before your planned canvass. If your campaign spans more than one state, we would suggest splitting your offline data sets per state.