Rankings Screen
Just because we're all on the same side doesn't mean we can't have a little friendly competition. Tap the "Rankings" button at the bottom of your screen to get to your campaign's Reach Leaderboard! The top three spots get medals! Compete with your friends to get to the top of the list. Gotta catch 'em all: IDs!
Customizing Your Leaderboard
You can view the leaderboard by combining a bunch of different timespans and stats!
Pick your timespan: You can pick between Today, This Week, This Month, This Cycle (for campaigns that have been on Reach for more than one election) or All Time, which allows you to see the leaderboard for just that time range. If you've joined the team late, the all-time leaderboard my be a tough climb, but there's no reason you can't seize the day and get the gold for today.
Pick your metric: You can choose to see the leaderboard by People Reached, People Added, Relationships Added (in your Network), Users Added, Phone Numbers Added, or Emails Added.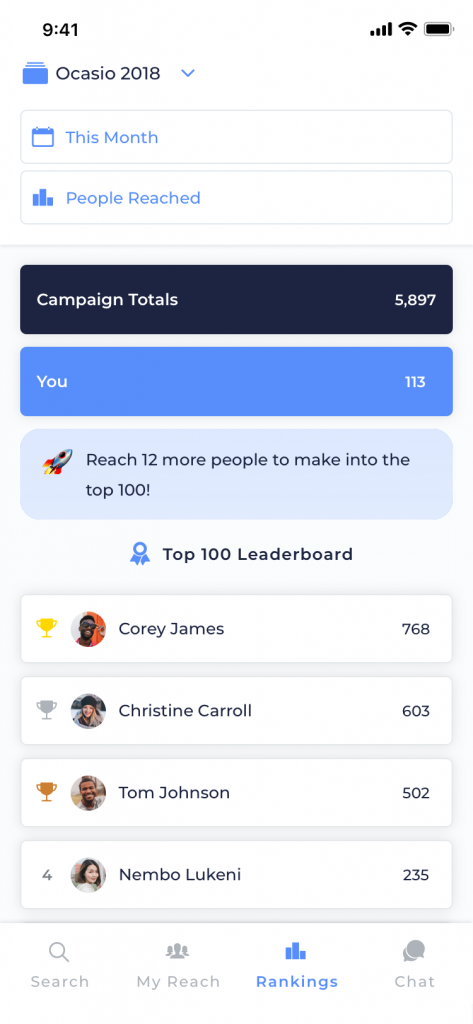 Once you've customized your leaderboard, you'll see your Campaign total and your personal total for that stat. Also, you'll see a prompt letting you know how far you are from getting onto the leaderboard, or reaching your next medal! Get out and get canvassing to get first place in every category!