Search Knowledge Base by Keyword
You are here:
About the Rankings Screen
Just because we're all on the same side doesn't mean we can't have a little friendly competition. Tap the "Rankings" button at the bottom of your screen to get to your campaign's Reach Leaderboard! You'll see a listing of each user on the campaign showing how many people they have reached, email addresses they have added, and phone numbers they have gathered! The top three spots get medals! Compete with your friends to get to the top of the list. Gotta catch 'em all: IDs!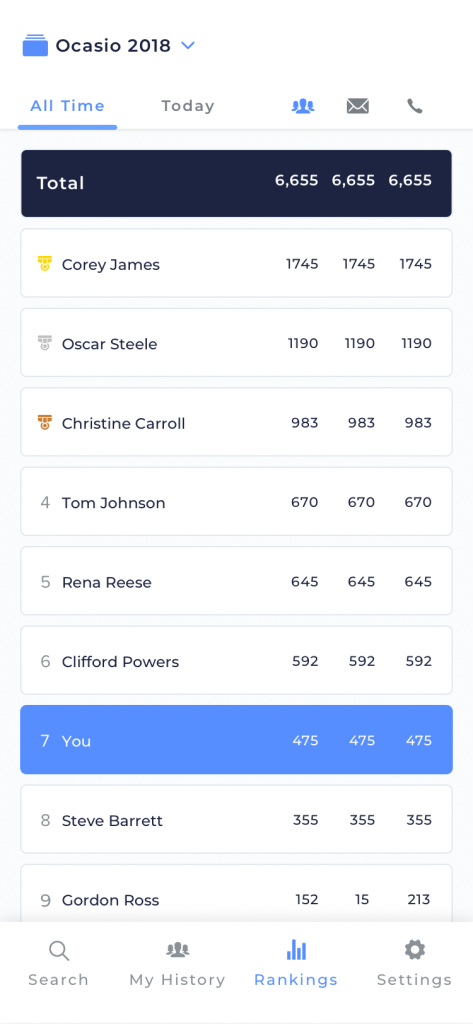 You can switch between "All Time" view and "Today" view which allows you to see the leaderboard for just the current day. If you've joined the team late, the all-time leaderboard my be a tough climb, but there's no reason you can't seize the day and get the gold for today.
You can also sort the rankings table by people reached (the first column), email addresses gathered (the second column), or phone numbers gathered (the third column). Sort by tapping on one of the header icons and the list will refresh.
Note: The Rankings screen is only available to Reach Complete subscribers and can be disabled by campaign admins if they want to steer clear of even friendly competition. You can learn more about admin options here. If you don't see this tab and wish you did, ask your campaign admins.
Was this article helpful?
Last Updated On
December 24, 2018