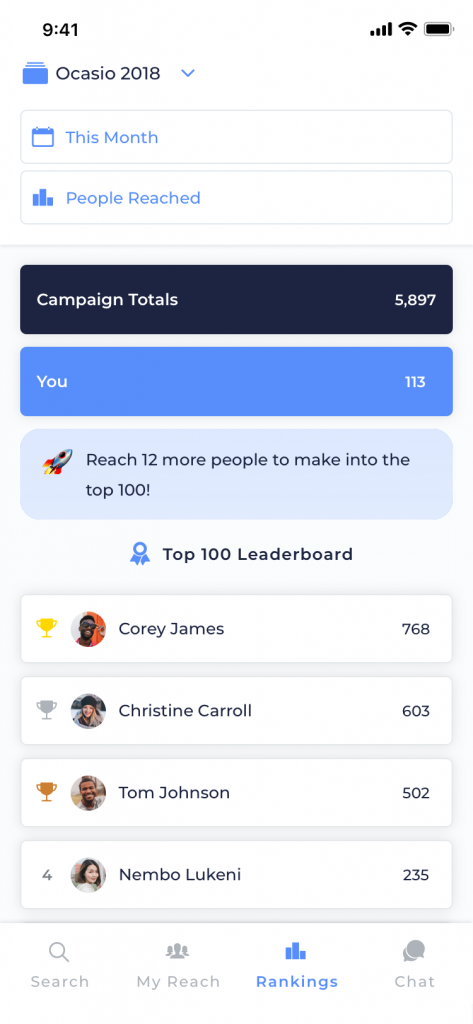 Just because we're all on the same side doesn't mean we can't have a little friendly competition. Tap the "Rankings" button at the bottom of your screen to get to your campaign's Reach Leaderboard! The top three spots get medals! Compete with your friends to get to the top of the list. Gotta catch 'em all: IDs!
You can view the leaderboard by combining a bunch of different timespans and stats!
Pick your timespan
You can pick between Today, This Week, This Month, This Cycle (for campaigns that have been on Reach for more than one election) or All Time, which allows you to see the leaderboard for just that time range. If you've joined the team late, the all-time leaderboard my be a tough climb, but there's no reason you can't seize the day and get the gold for today.
Pick your metric
You can choose to see the leaderboard by:
People Surveyed: Count of people you have saved survey responses for.
People Contacted: Count of people you have contacted using Reach contact actions of any type.
People Added: Count of brand new "Reach Add" people created by each user who were not already found in the campaign's data.
Relationships Added: Count of how many people each user has added to their Network. More on how to add relationships to people to add them to your network here.
Voter Registrations Started: Count of how many voter registration pipelines the user has initiated.
Voter Registrations Completed: Count of how many voter registrations that have been reconciled.
Users Added: Count of new users added to the campaign by each current user. More on how to add users here.
Phone Numbers Added: Count of phone numbers saved by each user.
Emails Added: Count of email addresses saved by each user.
Action Points: Earned by completing Action Card tasks on your Home Screen if they have points assigned to them. Tasks may have any number of points based on how important they are to your campaign.
Once you've customized your leaderboard, you'll see your Campaign total and your personal total for that stat. Also, you'll see a prompt letting you know how far you are from getting onto the leaderboard, or reaching your next medal! Get out and get canvassing to get first place in every category! Campaigns can set default metrics/timespans for rankings. These defaults will be used the first time a new user on your campaign visits the Rankings screen. Once a user has customized their settings, Reach will remember those settings for that user. If you want to make sure a user gets to the Rankings Screen with specific settings, try an Internal Link Action Card.