Search Knowledge Base by Keyword
There are two ways to add users to your Reach campaign:
Adding Users Individually by Cell Phone Number
Any member of a campaign can add new individual users to that campaign. This is how we spread Reach to the farthest corners of our volunteer force as quickly as possible. After all, the more Reachers we have, the more IDs we collect!
To do this, there are "Add User" buttons located throughout the app:
There is a button on the campaign manager screen labeled "Add User"
There is a button in the top right corner of the main search screen with a plus sign and a person icon.
There is a button on the person profile screen next to any valid cell phone number you have added. You will only be able to use this button if you have permission to view that phone number.
If you want to add someone to your campaign, just tap one of these "Add User" buttons and you'll see our "Add User" pop-up.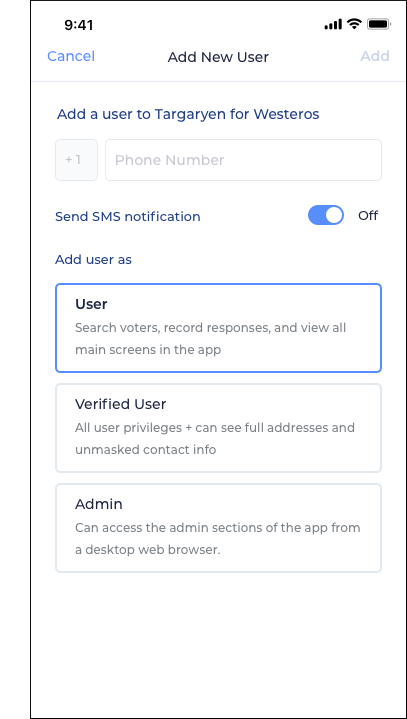 Enter a phone number. From this screen, you can also decide whether the new person should receive a text message notification that they have been added to the campaign. If you are a Verified User, Admin, or Owner of your campaign, you'll even be able to decide which permissions the new user should have!
Tip: You can also use this window to upgrade or downgrade the role of an existing user! Just enter their cell phone number and pick a new role and click add and their role will change accordingly.
When you've made all your choices, click "Add" in the top right. If all has gone according to plan, you will see a green notification that they have been added. The new user should create an account or login to Reach and check their Campaign Manager screen to see the campaign and select it.
Adding Users by Invite Code
This feature is only available for Reach Complete campaigns. From the admin section of the app, you can generate invite code which you can then share with folks who can enter the code to join your campaign on their own. More about that here.
Was this article helpful?
Last Updated On
December 10, 2019