Network Screen
When you want to dive deeper than just browsing your Reach history and seeing all the voters you've reached, it's time to turn to the My Network feature. This feature can be enabled or disabled by a campaign admin or owner so if you're not seeing it on your campaign, ask the admins!
Viewing your Relationships
The My Network feature is found on the My Reach screen where it is the second tab. It will list everyone you have added a relationship with, sorted by name.
Note: The ability to choose between various types of relationships for a given person is not ready quite yet, but is coming soon!
At the top of the tab, you will see a counter of how many people are currently in your network and you'll see a "Refine" button which will let you toggle visibility of those people's tags, addresses, and relationships.
You can also use the Refine Screen on Search Results or History screens to turn on relationship markers in those lists.
Any time you visit the profile screen of someone in your Network, you will also see your relationship with them indicated right below their name.
Adding New Relationships
Any Reach user can add a relationship with any person in Reach. There is no limit as to the number of users who can have a relationship with a given person. There are three ways to add a relationship with a person in Reach:
By importing your contacts
You can import your phone contacts and Google Contacts into Reach to build out your Network. For a detailed walkthrough of importing your contacts, check out the Contact Import Knowledge Base article.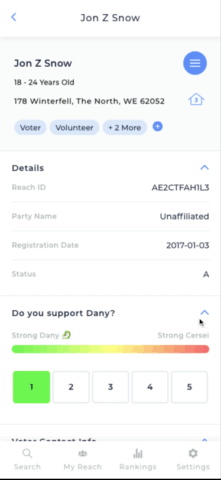 From the person's profile screen
From any person's profile screen, just tap the "Action Menu" button next to their name.

You will see the Action Menu appear on the bottom of your screen. From there, tap "Add to My Network" and you will now see the relationship marker appear under their name.
As you're adding a new person to Reach: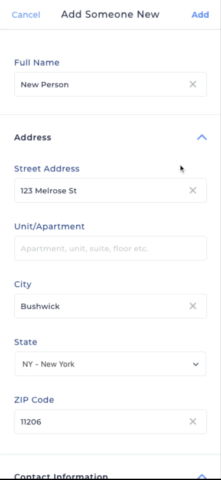 If you're adding a brand new person to Reach, you can add them to your network right as you go! Just scroll down to the "Relationship" section and tap "Add to My Network". Then, when you confirm their information and add them to Reach, they will already be in your network.
Removing Relationships
Breaking up is hard to do, but removing a relationship in Reach is a piece of cake! Just navigate to the person's profile screen, tap the same action menu button and choose "Remove from My Network". It's just like adding a relationship, but backwards and in heels.