We hope everyone is able to stay safe and healthy during such a chaotic time! With the significant shift that COVID-19 has brought to our society, the campaign landscape has changed. Many progressive organizations and campaigns across the country have a field-first mentality, but now we're looking at a digital-only landscape for the immediate future. While we hope we can all be back to our ground game later this year, in the interim, here are some ways you can use Reach when you're working digitally:
Voter Contact
Relational Organizing
Build out your personal Network of people that you know in your campaign or organization. You can even do this super easily using our new Contact Import tool! You can read more about using Reach for Relational Organizing here, or check out a quick walkthrough below:
Head to your Network tab, and tap the "Import" button to start adding your contacts into Reach. You'll be able to select which contacts you'd like to import, validate which person is the correct match for your contact, and import their contact information and build out your network! You can read more about importing your contacts here.
Once you've filled your Network with your contacts, It's time to get in touch! Use Contact Scripts to ask people ID questions, ask them to donate, or ask them to become virtual volunteers.
Once they reply, record that data! Mark down ID questions, invite them to join Reach if they're interested in joining, or just continue the conversation about your organization!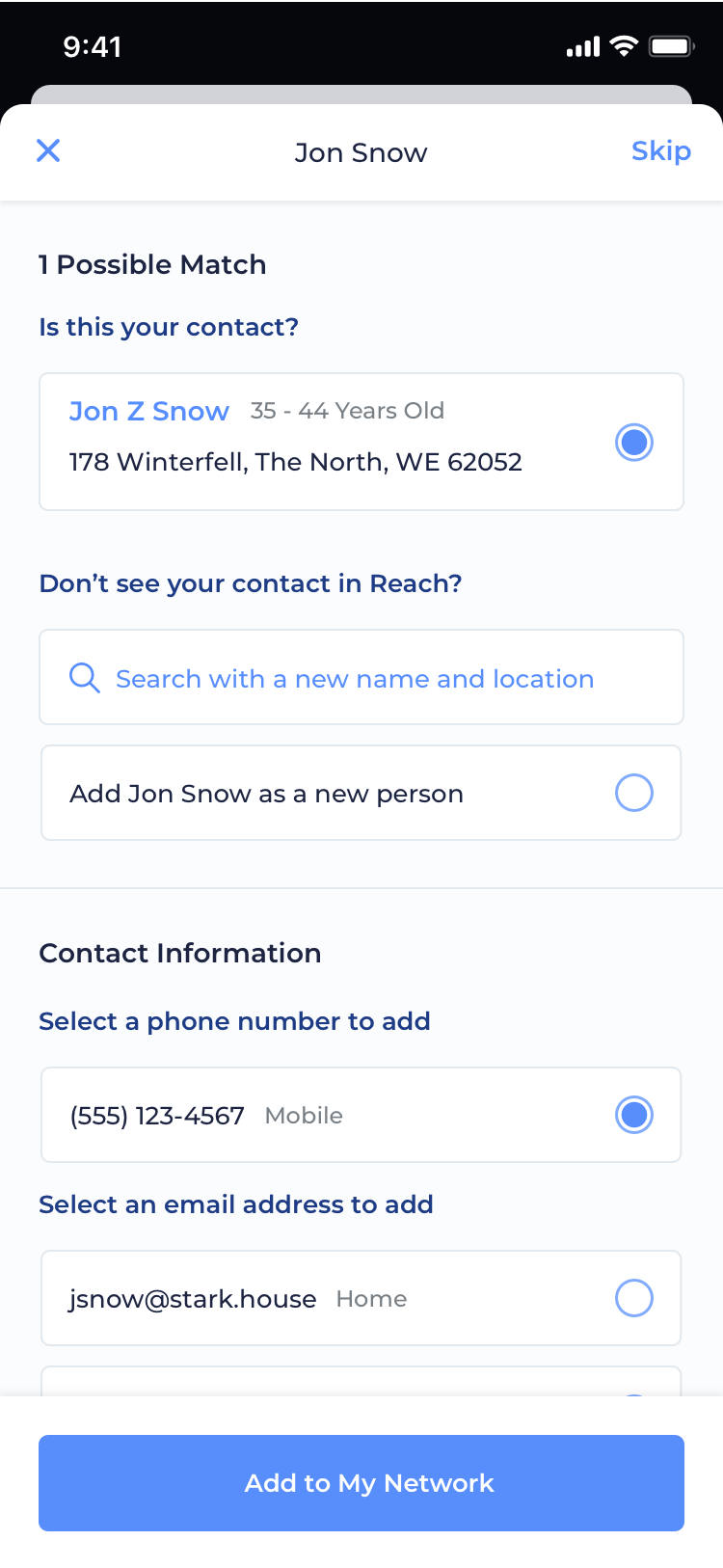 Digital Door Knocking
Go into online communities to find and canvass voters! You can go through your organization's social media pages and look up followers and like-ers in the voter file using Reach. Use the social media platform to do some "digital door-knocking" to ID those folks and get their IDs and contact info into Reach. Check out this video that Cori Bush's campaign put together as a great example of how this can work.
This digital door knocking isn't just restricted to social media! If your candidate is a gamer and does Twitch streams, try to find voters that are commenting on the stream and send them a message. Or, if you're a member of different progressive Facebook groups, try looking through the membership for potential supporters. You can even look for people that are pinning political swag on Pinterest!
Mutual Aid
Getting in touch with your communities and ensuring people have access to housing, food, and medical care is paramount during social distancing. You can use Reach to check in with your community by answering survey questions specifically designed for mutual aid, and use that information to help your neighbors in need. One of the ways people are checking in with their neighbors is by using Contact Scripts that their organizations have created. These can include links to resources, questions about whether someone needs help, or anything else.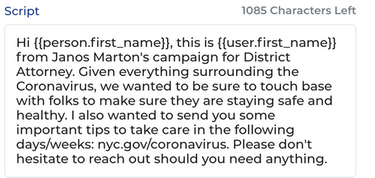 Join Your Digital Volunteer Community
While one side of organizing during social distancing is ensuring that we can still maintain and grow voter contact, the other equally important side is ensuring that volunteers have a community where they can meet each other and get excited! Nobody wants to feel like a cog in the campaign machine, and we've set up a few cool ways to ensure y'all can meet each other and build a movement together:
Home Screen
Check out the action hub for your campaign in your new home screen! You can think of your home screen as a feed of action items you can complete to move your organization's goals forward. These action cards can link to different parts of the Reach app, like an action card to build out your personal Network, or to go Digital Door-Knocking to canvass new people. Action cards can also link to external links, and take you to a place like your organization's events page, news articles, social media, and more – the possibilities are endless!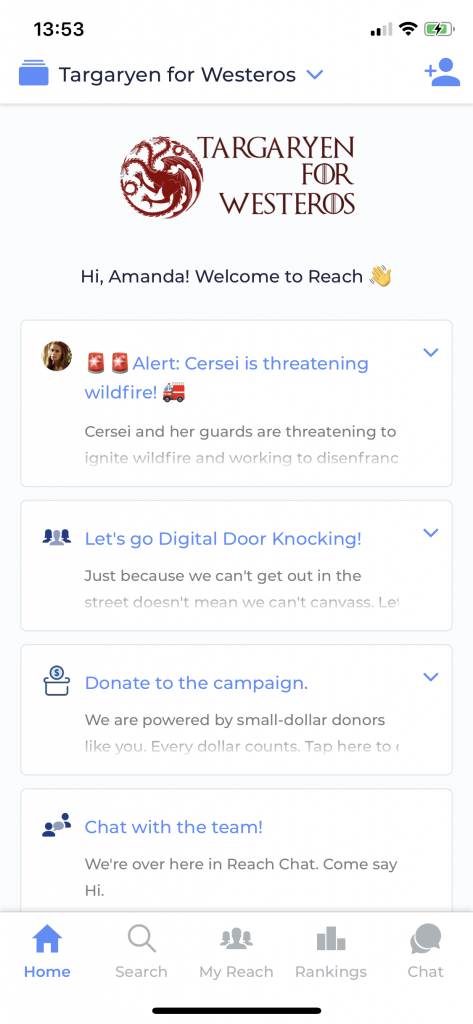 Reach Chat
We face unprecedented organizing challenges in this time of social distancing, but you can now use Reach as a true digital organizing space with real-time group chat right in the app. Your full-featured team chat room includes every user on a Reach campaign and each campaign gets their own chat. You can see typing indicators, use emoji reactions, @ mention other users, and even use gif embeds (type "/giphy"). Chat will generate push notifications and icon badges in the app and works across all Reach platforms including iOS, Android, and Web, so it's just as easy to use from your phone as it is from your laptop or desktop when you're stuck at home. No need to guess who people are as you juggle WhatsApp groups or Slack channels or Discord servers when you can chat right where you're organizing! If you don't see Reach chat, ask a campaign admin to turn it on for your campaign.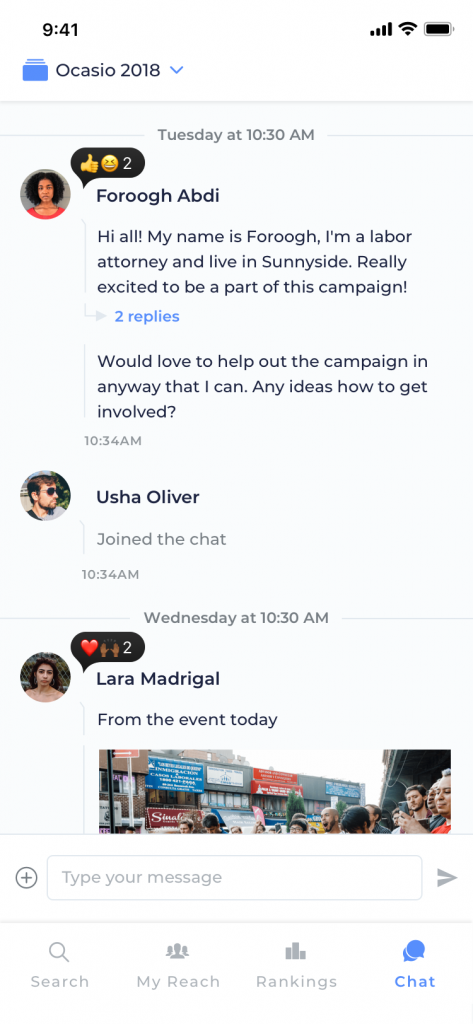 Rankings
Get competitive with some relational goals by checking out Rankings! Switch your leaderboard to Relationships Added, or Users Added to see the rankings based on who is expanding their network, or recruiting new volunteers. Try to add the most relationships this week – maybe your campaign will even give out prizes to people at the top of the leaderboard for that week.
Reach Admins: Set Up for Digital Success
As an admin, there's a few things you can customize in your Admin Dashboard or communicate to your volunteers to make your relational and digital organizing even more impactful:
Customize the Campaign Basics
Be sure that you've set up all of your basic information in your Campaign Settings screen because your users can see it all through their My Account screen. In particular, make sure your website, donation URL, and Help Desk email are all up-to-date. This way, in their My Account screen, users can easily get to your campaign website, donate, or email your organization directly for help.
Action Cards
Customize your campaign's Home Screen in the app by creating different Action Cards for your volunteers to use. Think of this as your volunteers' their digital campaign hub – create to-do items like signing up for a phonebank on your events page and building out their Network in Reach, or link to different resources like your campaign platform or social media pages. Don't forget to turn on the Home Screen at the bottom of your Campaign Settings screen.
Invite Links
Make sure you've added all of your volunteers to Reach so they can organize for you, as well as join your team in Reach Chat! You can create an Invite Link to add your existing volunteer base in bulk – send it out to your existing volunteer Whatsapp group, or email your volunteer list so everyone can join (just don't post it publicly!).
Push Notifications
Use Push Notifications to remind your users to complete their action items. Send out a notification asking your volunteers to digital door knock 5 new people, or schedule notifications in advance to remind your volunteers about a Reach Friend Bank you have coming up to relational organize!
My Network
Create Relationship Types that give your volunteers a way to map voters in a digital world. In addition to things like Friend, Family, and Colleague, you can create Relationships for digital interactions, like Facebook Friend, Instagram Follower, or Twitter Follower.
Contact Scripts
Make sure you've created tons of Contact Scripts so your volunteers can easily follow up with people from their Network or from digital door knocking! You can create contact scripts for things like mutual aid (check in with your neighbors), a volunteer ask (join Reach and start e-canvassing), website information (send a voter more campaign info), an ID question (can we count on your vote?) among many others. Get creative and customize these for whatever works for you!
Survey Questions
If you want to keep track of voters' social media, create short text Survey Questions to add links to social media information. For example, create survey questions called "Facebook Page", or "Twitter Handle".
Note: Invite links, Custom relationship types, and unlimited customizable survey questions are available for Reach Complete and Reach Movement campaigns only.