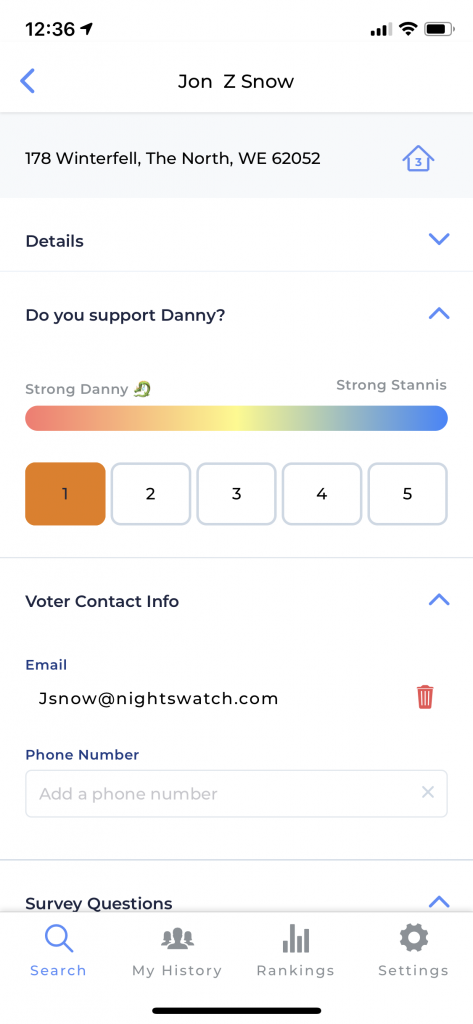 Once you're in the profile screen, you can make any updates you want to that user's profile, like recording support scores, or updating their contact information. Then, tap "Save" to save your changes. If you tap "Cancel", then you've just boarded the express train to losing all of your updates.
All sections on the profile screen can be expanded or collapsed using the small arrow on the right side of the section name. As you expand and collapse sections, Reach will remember your preferences when you load new people.
Basic Info
At the top of the screen, in the header, you'll find the person's name followed by their address in the gray section. This is also where you'll find their age and gender if it is included in your campaign's source data. See the Privacy Notice below if you're not seeing the person's full address.
Household Search
The little house icon with a number in it is a Household Search button! More about that here.
Details
The Details section is where Reach displays all the core information from your campaign's data set. Keep in mind what type of information is most important to your specific canvassing effort. If you are running in a close primary, you may care very much about Party Registration, for example.
Contact Info
At the bottom of the voter profile is the Voter Contact Information section. Get those digits! You can enter a cell phone number and an email address for everyone you meet. If you need to remove a saved portion of contact info, trash it with the cute trash button.
Most users will see some privacy masking on this page. This means that addresses will be shown without a building or apartment number.
If a person's contact information was added by someone else, you will see a privacy-masked version of it with asterisks replacing some key characters. If you're the one who added it, then you'll see the whole thing.
Survey Questions
Primary Questions
Every Reach campaign picks one main question they want to ask the folks they reach. This question is displayed prominently toward the top of the Person Profile screen. Hard to miss it! This may be a support score 1-5 question, an event attendance question, or any other question that is critical to your campaign's success.
The primary question can change over time and is configured by your campaign admin.
Additional Question Sets
If you're working on a Reach Complete campaign, your campaign admins can also add unlimited custom questions to the profile screen so you can gather all sorts of responses from the folks you meet. Learn about the various Question Types here.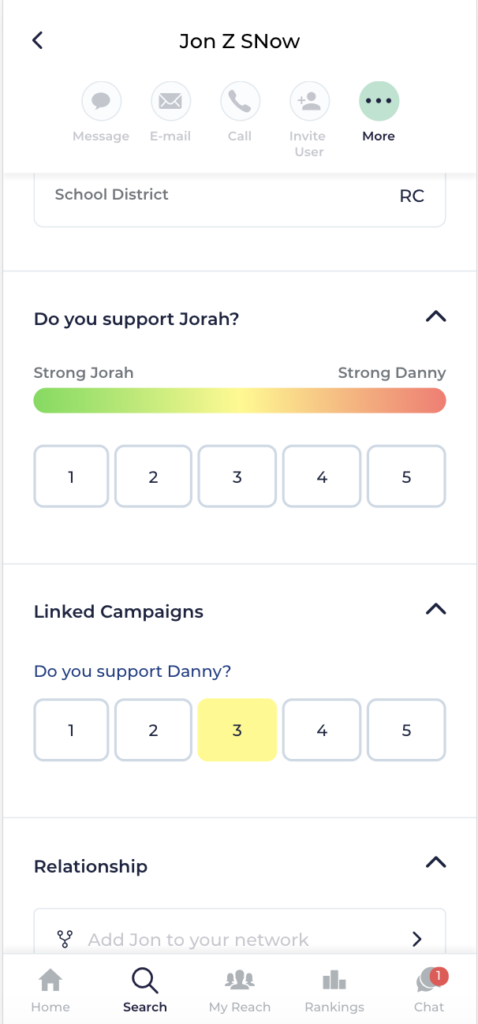 Linked Campaigns
Sometimes, a campaign using Reach will cross-endorse and join forces with another Reach campaign. If campaigns in Reach decide to link, then when you looks up a voter, they'll see a new expandable section called "Linked Campaigns". Expand that section to see the Primary Survey Question for every other linked campaign relevant to that voter. When you pick responses for these questions, that data will be recorded directly by that other campaign. Linking campaigns can even work between more than two campaigns, so don't worry about being a third wheel!
An important note about linked campaigns: Linked campaigns always display the Primary Survey Question of any campaigns or organizations your campaign is linked to. This Primary Survey question is fully controlled by that other campaign or organization, so be sure to check with your fellow campaign if you have any questions about it.