Search Knowledge Base by Keyword
How to use Search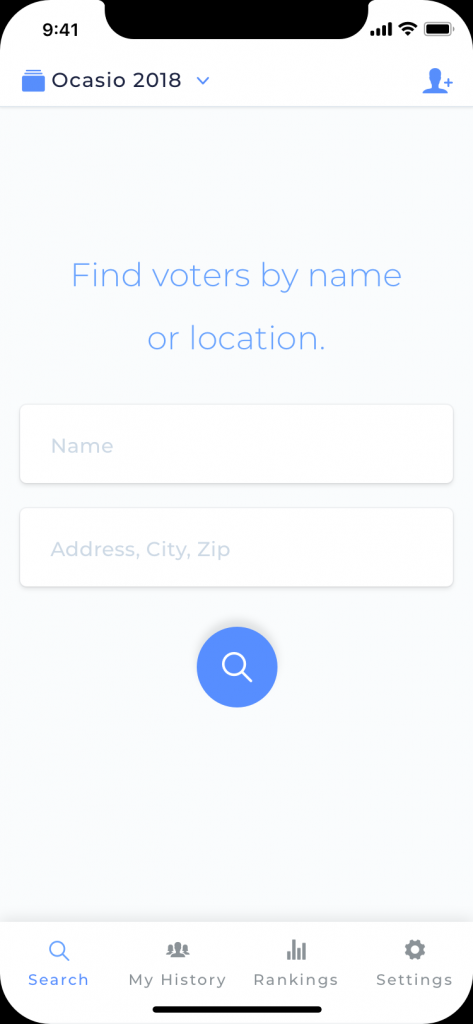 The heart of Reach is its Search screen. It's what enables you to identify potential supporters anywhere and at any time. It's Reach's main event and it's why you're here!
Here's how to use Reach's Search screen when you encounter a potential supporter in the field:
Type whatever information you have about them into the single search field. This information can be a first and/or last name, street address, zip code, etc.
Press the big blue search button. It sounds simple because it is.
From there, search their name, address, city, zip code, or any combination of those things.
When your search completes (don't blink – it's fast), you'll get a list of results.
Use the "Sort" button under the search field to sort the list by name, address or relevance.
If you volunteer for more than one campaign, keep an eye on the top left corner of the Voter Search screen to make sure you have the proper campaign selected. To switch campaigns, tap the campaign name to get to the Campaign Picker.
Other Cool Details About Search
You can even search the database for an address with no first or last name at all! You can also see all of the registered voters in a building or on a street and sort by address. Try it on your own building or street now!

Was this article helpful?
Last Updated On July 23, 2019